RUL-05 - Fire and Sword revised rulebook
By Fire and Sword – a historical wargame is the name of a battle system developed by the Wargamer Company. We wanted to create a realistic, playable and dynamic wargame which recreates the 17th century wars fought by the Polish-Lithuanian Commonwealth against Turkey, Muscovy, Sweden, Crimean Khanate and Cossacks. The period between 1640 and 1676, on which the game focuses, is a time of almost constant warfare waged by the Polish-Lithuanian Commonwealth on all fronts, in many cases with several enemies at the same time. Supplements planned for the game will be dedicated to specific wars and campaigns in which the Polish-Lithuanian Commonwealth took part during the entire 17th century.
The By Fire and Sword wargame is a comprehensive system including game rules, historical background for the forces of all the combatants, battle group creation rules and scenarios, but most of all a huge number of wargaming figures representing all the military formations of the warring parties.
Game rules
Game rules allow to recreate the behavior various military formations on a battlefield in a dynamic and realistic way – be it the thundering charges of Polish winged hussars, the fire-breathing squares of Swedish infantry, the flying units of Tatars or the stubborn monoliths of Muscovite streltsy. The rules system allows for the use of a variety of tactics, formations and ways of warfare used during the 17th century and takes into account the differences in training, arms, armor and morale of the various types of units. We have placed particular emphasis on the issue of command on the battlefield and its effectiveness in various armies.
Depending on the experience of gamers and number of available figures, as well as time and space for the game, By Fire and Sword battles can be played on 4 different levels. The choice of the game level influences the available units for the gamer's force. The basic level of the game – called "The Foray" – is a short skirmish, completed in less than an hour. The highest level – called "The Field Army" enables recreating huge and truly epic battles.
By Fire and Sword includes a unique scenario creation system allowing for realistic recreation of historical battles, as well as balanced rules for gaming "What if…" scenarios.
For the creation of the rules we used a wide array of historical sources, the consultations of historians, own research and hands-on experience with 17th century arms and armor.
DUE TO THE WEIGHT OF THIS BOOK, WE CANNOT SHIP OUTSIDE THE UK.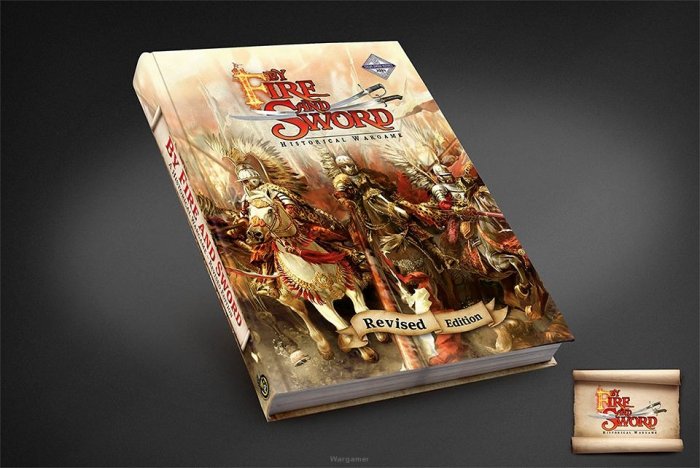 Return to: Wargames Rules - Wargames Rules