MTB002 - British Wilderness Force
The British Wilderness Force.

A set of twenty-three figures making up a 200pt Army for Muskets and Tomahawks.

In the British Wilderness Force you get:
1 Officer
16 Rangers
6 Indians
23 plastic bases.
The figure selection is a random mix, and where we'll endeavour to get you as wide a mix of figures as possible, there may be some duplicates.

Figures produced by North Star Military Figures (northstarfigures.com).
Plastic bases are 20mm by 20mm square and made by Renedra.
Figures are 28mm sized, made of metal and supplied unpainted. Some modelling will be required. Not suitable for children under the age of 14.

Muskets and Tomahawks is copyright Studio Tomahawks. Muskets and Tomahawks Miniatures are copyright North Star Military Figures Limited.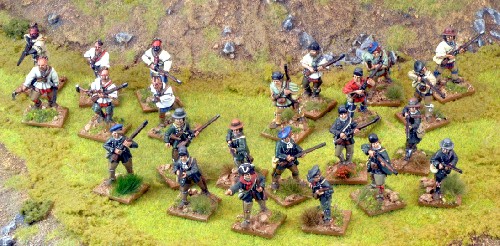 Return to: Miniatures for Musket and Tomahawks - British