VM007 - German 105mm Gun and Crew
1/72nd scale plastic kit. Requires assembly and painting.

The 105mm leFH 18 was the standard divisional field howitzer used by the Wehrmacht (German Army) during World War II. It had a heavy, simple breech mechanism with a hydro-pneumatic recoil system. The howitzer had wood-spoked or pressed steel wheels. The former were only suitable for horse traction. In 1941 a muzzle brake was fitted to allow longer range charges to be fired. This increased the range by about 1,800 yards and was known as the leFH 18M.

In March 1942 a requirement was issued for a lighter howitzer. This led to a second modification, known as the leFH 18/40. This modification consisted of mounting the barrel of an leFH 18M on the carriage for a 75mm PaK 40 antitank gun. The new carriage increased the rate of fire as well as making the howitzer lighter. Additionally, a more efficient muzzle brake was added, decreasing the recoil.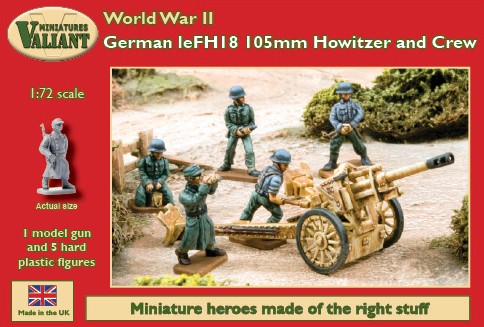 Return to: World War Two - Plastic Figures