MGMA50-1 - MA Scenery Upgrade Pack
The battle for Greenville takes place through the ruins of this once thriving middle-American town. Smashed buildings, rubble and broken glass form the hauntingly urban backdrop for this unearthly invasion.

This set provides you with the scenery to construct that backdrop, including 6 sprues of plastic red-brick ruins, 2 sprues of accessories to form the scattered debris of the invasion and a connector sprue to quickly and easily put together the backdrop of your choice. This will provide plenty of scenery to lay out a standard 2' by 2' Mars Attacks board.
Includes:
6 x Ruins sprues
2 x Accessory sprues
1 x Connector sprue
Models supplied unpainted.
2014 The Topps Company, Inc. All Rights Reserved. MARS ATTACKS is a Registered Trademark of The Topps Company, Inc. Licensed by The Topps Company.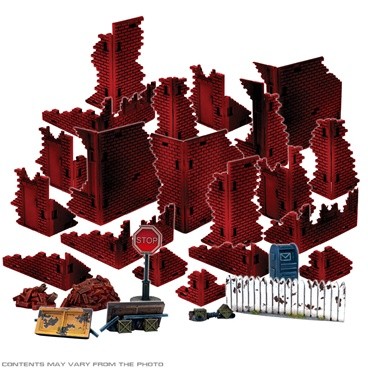 Return to: Mars Attacks - Mars Attacks