DSM5039 - SANSA STARK BUILDING A SNOW CASTLE
GEORGE R.R. MARTIN MASTERWORKS
SANSA STARK BUILDING A SNOW CASTLE - DSM5039
SCULPTED BY TOM MEIER.

28mm sized Pewter figurine, supplied unpainted.

Dark Sword Miniatures write:
Here we have a second version of Sansa Stark and she is building a snow castle in a scene from the books. George really would like to see more of this type of miniature done for the GRRM Masterworks line. What I mean is little diorama type scenes from the books like we did with Dany emerging from the funeral pyre with the 3 baby dragons and now Sansa building a snow castle. Here is your chance to support this type of miniature being done by picking up a copy. I do love this piece and I think alot of painters will have fun painting her up as a little diorama piece. I must give a tip of the cap to Mr. Martin for pushing me on this as I tend to go for more "run of the mill" standard poses so people can get as many varied uses from the miniature as possible. But George was right, this scene makes a wonderful miniature.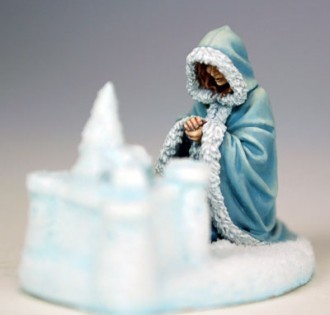 Return to: George R.R. Martin Masterworks - George R.R. Martin Masterworks