WRZ-DRK-03 - Nepharite of Algeroth
Nepharite of Algeroth

In the Mutant Chronicles universe for Warzone: Resurrection comes Nepharite of Algeroth for the Dark Legion faction in the fictional diesel punk future, where space faring humans has gone beyond Pluto and unearthed ancient alien artefacts during their explorations. This has unleashed terrible dark forces known as the Dark Soul who take over and corrupt both man and complex machines and now this force attacks earth and the surrounding solar systems with its magic force of Dark Symmetry and its monstrous armies of undead and alien beasts, laying waste to everything. Humanities survivors now fight amongst themselves for the mega corporations that have taken over, who have colonized the inner planets of the solar system. Everyday they must fight to survive, while ridding the Earth of the evil forces of the Dark Soul.

Nepharite of Algeroth is an awesome new character to lead your forces, with a set of fanged teeth and chainsaw staff this model will be a great addition to your Dark Legions army for all your Warzone: Resurrection games.

The pack contains one highly detailed resin miniature and base.

These models come unpainted and some assembly may be required.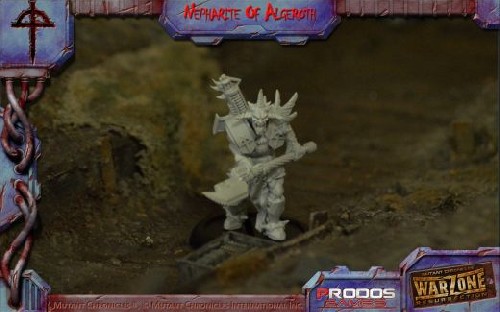 Return to: DARK LEGION - Dark Legion Pack