WGA-CON-03 - Concord C3 Drop Squad Box
Strike Squads form the core of the Concord Combined Command's armed forces wherever they fight from the embittered battlefields of broken worlds to primeval jungles and the depths of space. The iconic image of the armoured Strike Trooper is both feared and admired throughout the Antarean universe, both as the armed champions of peace and order, and the merciless agents of the Integrated Machine Intelligence – IMTel – that watches, protects and ultimately controls the thousands of worlds of the Concord. The IMTel designates recruits for the Concord's armed forces, benignantly selecting only those in whose best interests it is to be so chosen – directing their fate as it directs that of untold billions of lives in a society where humans are freed from the brutal labour of decision-making and overbearing tyranny of free choice.

Strike Troopers are armed with multi-function plasma carbines capable of punching holes through most armour or firing rapid bursts of deadly plasma bolts. They are protected by invisible hyper-light shields suspended from their hardened case battle suits. This advanced armour provides atmospheric isolation as well as shielding against enemy weapons. Strike units are accompanied by a spotter drone that feeds vital targeting information into the squad's sophisticated combat shard.

Contains the following metal models:

1 C3 Strike Squad leader with plasma carbine and x-sling
4 C3 Strike Squad Troopers with plasma carbines
1 Concord Spotter Drone
1 Beyond the Gates of Antares Orders Dice

Metal miniatures, supplied unpainted.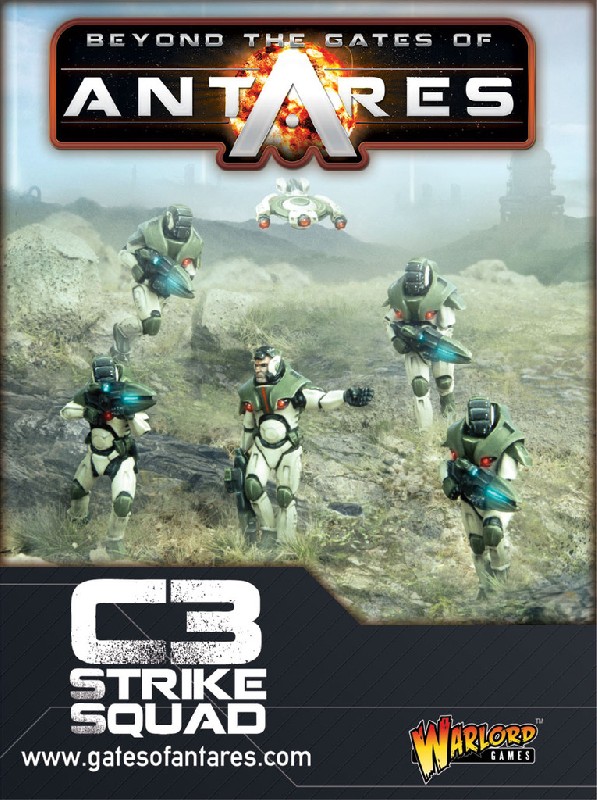 Return to: Beyond the Gates of Antares - Beyond the Gates of Antares