DracAm001 - Dracula's America: The Whole Lot
This deal gets you the Dracula's America rulebook, and one each of all the special miniatures we designed for Dracula's America.
ORDERING THIS ITEM QUALIFIES YOU FOR THE NICKSTARTER CAMPAIGN AND FOR ALL THE REWARDS BEING IN THAT CAMPAIGN BRINGS.
As well as the rulebook, this deals gets you:
Crusader with Pistols
Crusader with Rifle
Preacher Arcanist
Revenant Jake
Revenant Jobe
Revenant Josey
Revanant Jacob
Diehard Dick
Diehard Dob
Diehard Dyer
Diehard Dirch
Diehard Derrick
Necromancer
Vampire Fledgling
Sasquatch
Hellhound
Pale Rider
Swamp Baka
Abyssal Behemoth
Seraphim
Temple Snake
Wendigo
Abyssal Harbinger
The Magister
Broodkin Kit
Broodkin Lazar
Broodsire
Bokor
Zombi Toby
Zombi George
The Vessel
Freed Lafayette
Freeman Fred
Escaped Ham
Mambo
Houngan
Carpathian Guard
Stich Doctor
Templar
Skinwalker Arcanist
All Dracula's America figures are 28mm sized, made of metal and supplied unpainted. We will also include free of charge round plastic bases for all the figures. This deal also includes all the dice you need for the game, 6x Six Sided, 6x Eight Sided and 6x Ten Sided.
This deal saves you 10% over buying the items individually.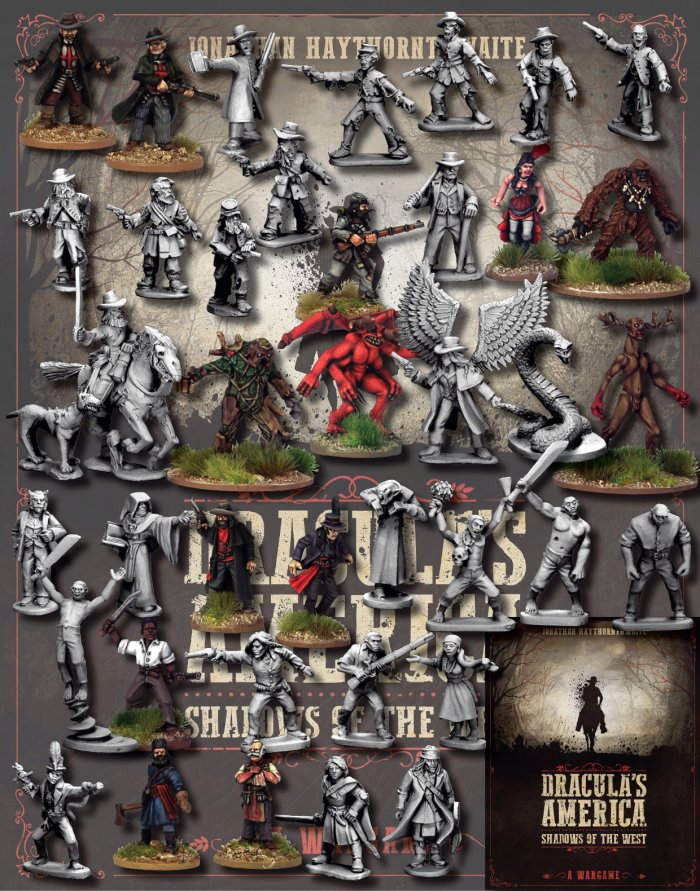 Return to: Dracula's America - Draculas America